Why is Bridge's New York Coffee inside Bridge English School?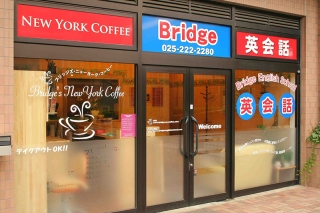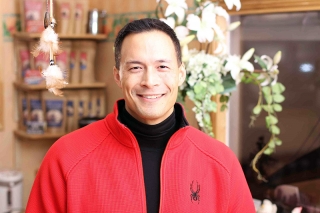 Bridge's New York Coffee was created by Dan Thach, a native New Yorker who first came to Niigata, Japan as an English teacher over 20 years ago. In 2001, Dan and his wife Miki opened their own English school in Furumachi and named it Bridge English School. Dan chose the name "Bridge" because he wanted his school to be a language and cultural bridge between Japanese and English. Additionally, he designed the school to look like an American home to provide his students with a warm and inviting atmosphere to learn English.
  Everyone is Welcome…
In 2009, Dan redesigned Bridge's lobby to look like a cozy New York-style cafe. Being a coffee-lover, Dan began making his original brand of New York-style flavored coffee and regular coffee under the name "Bridge's New York Coffee". Students and non-students are welcome to come in and try our delicious flavored coffee (Hazelnut, French Vanilla, Macadamia Nut & Pecan Nut) or our non-flavored regular coffee (Manhattan Paradise and Manhattan Dark).
Bridge began selling original New York style bagels and cookies from March 2013. All of the bagels and cookies are made by Dan's wife Miki. Having traveled to New York every year since their marriage, Miki has mastered the flavor and texture of New York style bagels and cookies. At present, she has created over 15 types of bagels and 10 different cookie recipes. Every day there are several different types of bagels and cookies on sale for students and non-students to enjoy.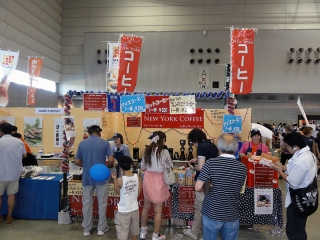 Bridge's New York Coffee: Participating in Niigata City Events
Since 2009, Bridge's New York Coffee has been participating in local city events, such as "Shoku no Jin" and Niigata food and drink exhibitions at Toki Messe. If you have an opportunity to attend one of these events, we welcome you to stop by for a cup of coffee and chat with us!